Handyman Ministry
Our Handyman Ministry serves the citizens of the community who might have trouble completing minor repairs and maintenance activities on their own.
Examples of tasks we have performed for our neighbors in need:
Minor automotive repairs

Home window replacement

Household painting

Window Air Conditioner Installation

Ceiling Fan Installation

Yard Work

A local citizen admires her new handrails, installed by our Handymen.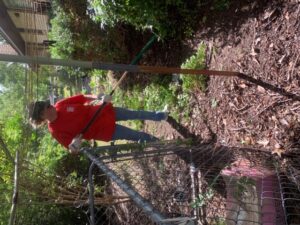 Tree trimming and flower bed cleanout along with brush haul off. If you need help with a project, give us a call.