Clifton Mobile Food Pantry
Dates: 2nd Wednesday of every month (rain or shine)
Next Scheduled Event: Wednesday, April 8, 2020
Revised Procedures in Place due to COVID-19:
1) Recipients will drive through as usual – PLEASE REMAIN INSIDE YOUR CAR
2) Volunteers will NOT be allowed to place food boxes inside your car. They will only be placed in the bed of a truck or in the trunk or rear hatch of a car or van.
3) Please make sure there is room for the food box in the bed of your truck or trunk/rear hatch of your car or van.
4) There will be no exchange of paperwork – sign-in will be verbal only.
5) Please do not return cardboard boxes at this time. Volunteers will not be able to accept anything from recipients.
If you have questions, please contact Kathy at 817-713-0081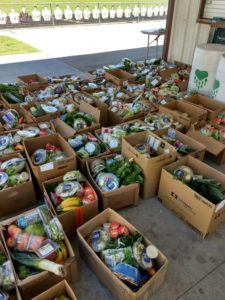 Time: 1:30 – 3:00 pm or until all food has been distributed
*Summer Hours change to 11:30 am – 1:00 pm
Location: Clifton High School Football Field Home Side
Immanuel partners with the Tarrant Area Food Bank (TAFB) to provide the people of Bosque County with nutritious fruits, vegetables and meats.
A strong core of committed community volunteers donate their time each month to sort and distribute the food.
.
Our Local Missions Team at Immanuel converted a cargo trailer into a mobile refrigerated unit. We use this trailer in support of the Clifton Mobile Food Pantry, and it allows us to provide meat and other refrigerated foods.
Contact: Kathy Meissner
817-713-0081
Kathy@ImmanuelClifton.org