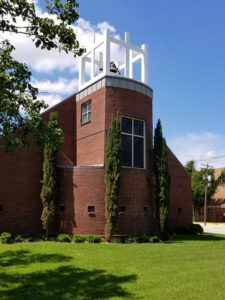 911 W. 3rd
Clifton, Texas 76634
254-675-3281
We are worshiping in the sanctuary again as the Body of Christ and we hope you will join us.
You may also follow us on Facebook at Immanuel Lutheran Church – Clifton TX for online worship and devotionals.
Mark your calendars for our 2021 Live Nativity – December 18, 2021
Check Events tab to get exact schedule information.
While Immanuel might not be the largest Church on the block, it is home. We're not a perfect church but, as forgiven sinners, God is blessing us with great opportunities to follow in His footsteps. Immanuel is guided by the Word of God as we do life together. We know that we have a tool in prayer, and we want to always be people of prayer.
We hope you will join us in our journey to draw closer to God and share the love of Jesus Christ with the world.
Givi

ng at Immanuel Lutheran Church
We encourage all of those who are part of our Church family to give—not out of obligation but out of a spirit of worship. Your gifts allow God's work to be done in our midst, in our community, and in the world around us.
Click HERE to make your secure online contribution.
Find us on Google Maps by clicking the map below